Whole Wheat Blueberry Muffins
Recipe by Kate Wood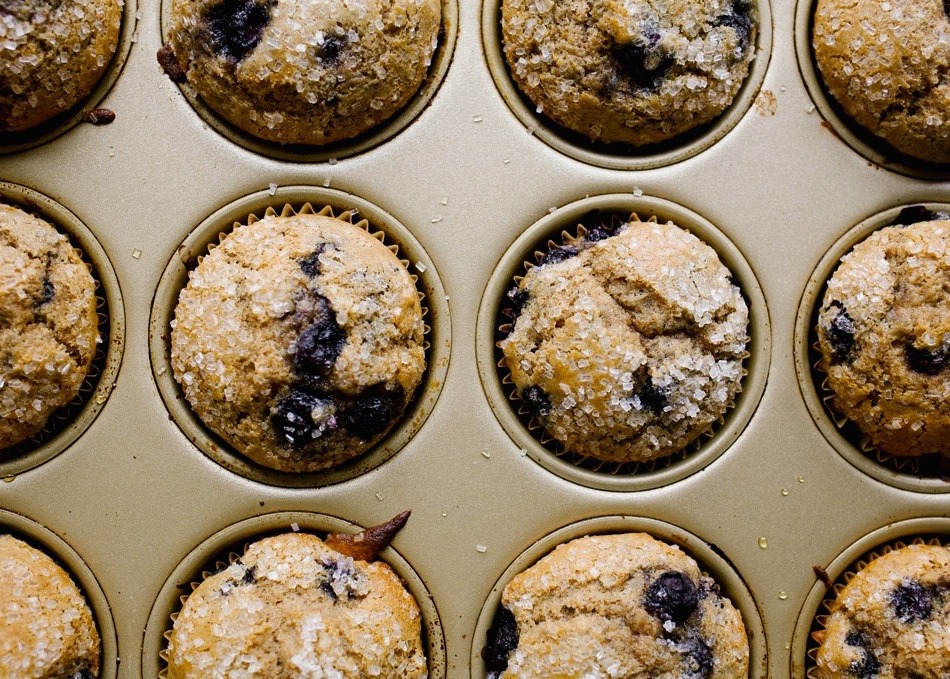 My name is Catherine Chiu and over quarantine I have started to bake a lot. I have baked chocolate chip cookies, brownies, coffee cake,
cupcakes, and even muffins, all from scratch. However, after baking all these delicious foods, I realize that I cannot finish it all because
these desserts are not very healthy. So, I figured out I could find a healthier recipe for all of favorite desserts. The first recipe I found
was the whole wheat bluberry muffins by Kate Wood. They are healthy, but taste like heaven. Keep scrolling to find the recipe.
INGREDIENTS:
3/4 cup (180 gm) milk
1/3 cup (80 gm) vegetable oil
1 large egg
1 teaspoon vanilla extract
1/4 cup (100 gm) sugar
1/2 cup (50 gm) brown sugar packed
1/2 cup (140 gm) all-purpose flour
1 and 1/2 cup (140 gm) 100% whole wheat flour
2 and 1/2 teaspoons baking powder
1/2 teaspoon salt
1/2 teaspoon cinnamon
1 cup fresh or frozen blueberries
1/4 cup sparkling sugar (optional)
DIRECTIONS:
Preheat an oven to 400 degrees Fahrenheit and line a 12-compartment tin with paper muffin lines.
In a large bowl, whisk together the milk, oil, egg, and extract until smooth.
Stir in the sugars.
Add the flours, baking powder, salt, and cinnamon and stir just till barely combined.
Fold in the blueberries.
Divide the batter among the 12-muffin compartment.
Sprinkle the tops of each with sparkling sugar (optional).
Bake in the preheated oven for about 18 minutes or until a toothpick inserted comes out clean.
Allow to cool briefly before consuming!